"Shuffle up the Wildcards, and deal 'em..."
– Commodore Ross
Background
Edit
The 58th Squadron, also known as the "Wild Cards" is a United States Marine Corps Space Aviator Cavalry squadron, assigned to the 5th Wing. The 58th was formed in 2063, from recruits who graduated from the United States Marine Corps Space Aviator Recruitment Depot in Loxley, Alabama. The newly formed 58th were vital in delaying a Chig fleet from attacking Earth until reinforcements arrived from Groombridge-34. The 58th Squadron, assigned to the carrier USS SARATOGA were on the forefront of several major battles in the Chig War.[1]
Squadron Personnel
Edit
Commanding Officer
Edit
Squadron Spacecraft
Edit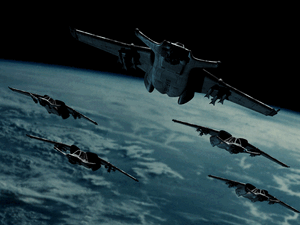 The 58th Squadron is assigned the SA-43 Endo/Exo-Atmospheric Attack Jet.
Squadron History of Engagements during the Chig War
Edit
References
Edit
Ad blocker interference detected!
Wikia is a free-to-use site that makes money from advertising. We have a modified experience for viewers using ad blockers

Wikia is not accessible if you've made further modifications. Remove the custom ad blocker rule(s) and the page will load as expected.